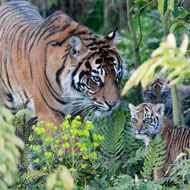 London Zoo celebrates as cubs explore outdoor paddock
A trio of rare tiger cubs made their public debut at London Zoo last week as they ventured to their outdoor paddock.

The seven-week-old Sumatrans explored the main paddock with mother Melati last Wednesday. Keepers say the cubs will not be named until they are able to be sexed.

Tracey Lee, a keeper a London Zoo said: ""We were watching the cubs on the hidden cameras in their dens, when it looked like they were about to follow Melati outside – we all rushed to the exhibit and were just thrilled to catch them playing outside for the first time.

"We got a real glimpse of their different personalities, as two of the cubs confidently bounded outside while the other one hung back a little and needed a bit more encouragement from mum."

The zoo announced the birth of triplets earlier in March. Tigress Melati gave birth to the cubs on February 3, just five months after her first cub was found dead in its enclosure. Keepers were left "heartbroken" after the three-week-old cub apparently drowned after falling in the pool.

Melati's triplets are being observed by keepers using remote camera technology. With less than 300 Sumatran tigers remaining in the wild, the births represent a significant achievement for the species global breeding programme.